These instructions are to Initiate a New Case in the Los Angeles Civil Courts—meaning this case is brand new, and does not exist yet in any court. If a case already exists in the court system, you will want to File on an Existing Case.
These steps take you through the process of starting a brand new case in the Los Angeles Civil Courts, and shows you how to electronically serve your documents on parties and / or attorneys in the case through the use of service contacts. Once your new case filing is submitted, you will receive email notifications from the court on the status of your filing.
Quick Steps
Scroll down for more detailed instructions.
From the Dashboard, click Initiate a New Case
Select the Court & Case Type, and enter the required Los Angeles – Civil Additional Case Data.
Select your Document Type and enter a Document Description (if required). Then click the Click to Upload link to add your document.
Enter your New Case Parties as required by the court.
Choose the Party or Parties you are filing on behalf of.
Select service contacts to add Additional e-Service to your filing.
Select a Payment Method, and click Confirm Fee Calculation to see the estimated fees.
Select the Filing Attorney if necessary, review all information for accuracy, and Submit Filing.
Initiate a New Case
From the Dashboard, click Initiate a New Case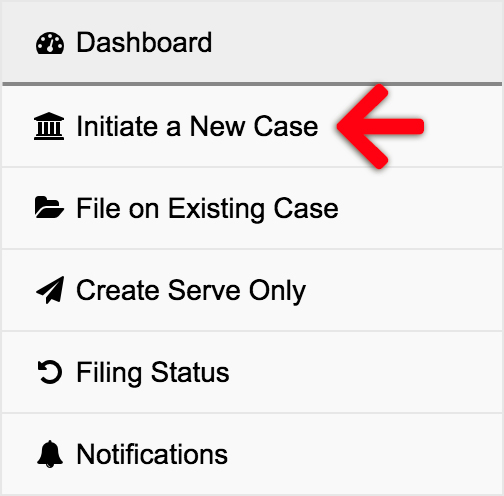 Congratulations! You have submitted your filing to Initiate a New Case. The court will review it, and email you with a response in short time depending on their backlog. You can always go to the Filing Status page at any time to see where the filing stands.