If you request a hearing date (spindle a motion) on a pending filing, and court response returns no available dates, you will need to make sure you have properly filled out the Case Cross Reference Code section properly. Besides your Cook County Attorney Code, you also need to add a second Case Cross Reference Code for the Motion Type. If you do not see these two rows, you will need to cancel your pending filing, and follow the steps below.
Note: If you do have two rows; one with your Cook County Attorney Code, and another with your Motion Type, scroll down to the Request a Hearing Date section, and click the link there. You might need to try a few times to get the dates to come up. If you still do not receive dates, you may need to reach out to the court with the envelope number as reference to advise.
Cancel the Filing
As long as your filing is still Pending, and the filing clerk has not begun their review of the filing, you can cancel the filing.
From the Dashboard, click Filing Status in the left menu.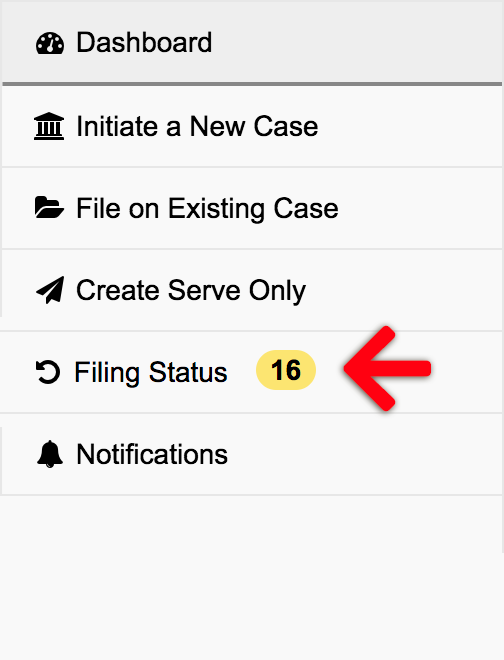 Click the Filing Id of the pending filing.


Click the Cancel Filing link on the upper right.


Case Cross Reference Codes
IMPORTANT! In order to schedule a hearing date you MUST:
A) include your Cook County Attorney Code in the Case Cross Reference Codes section, and then,
B) if the case type you are filing on requires it (i.e. Domestic Relations, Probate, etc…), you must select from the Motion Types available in the Case Cross Reference Codes section. See sample screenshot below for reference.
Note: You will only want one (1) Type in this section. Adding multiple Motion Types here can result in an error upon submission.
COOK COUNTY MOTION TYPE UPDATE 7/12/2021
The
Probate
,
Domestic Relations
, and
Domestic Violence (Civil)
Divisions in Cook County have changed their method for selecting motion types in a filing. Please refer to
this help article
for their new procedure.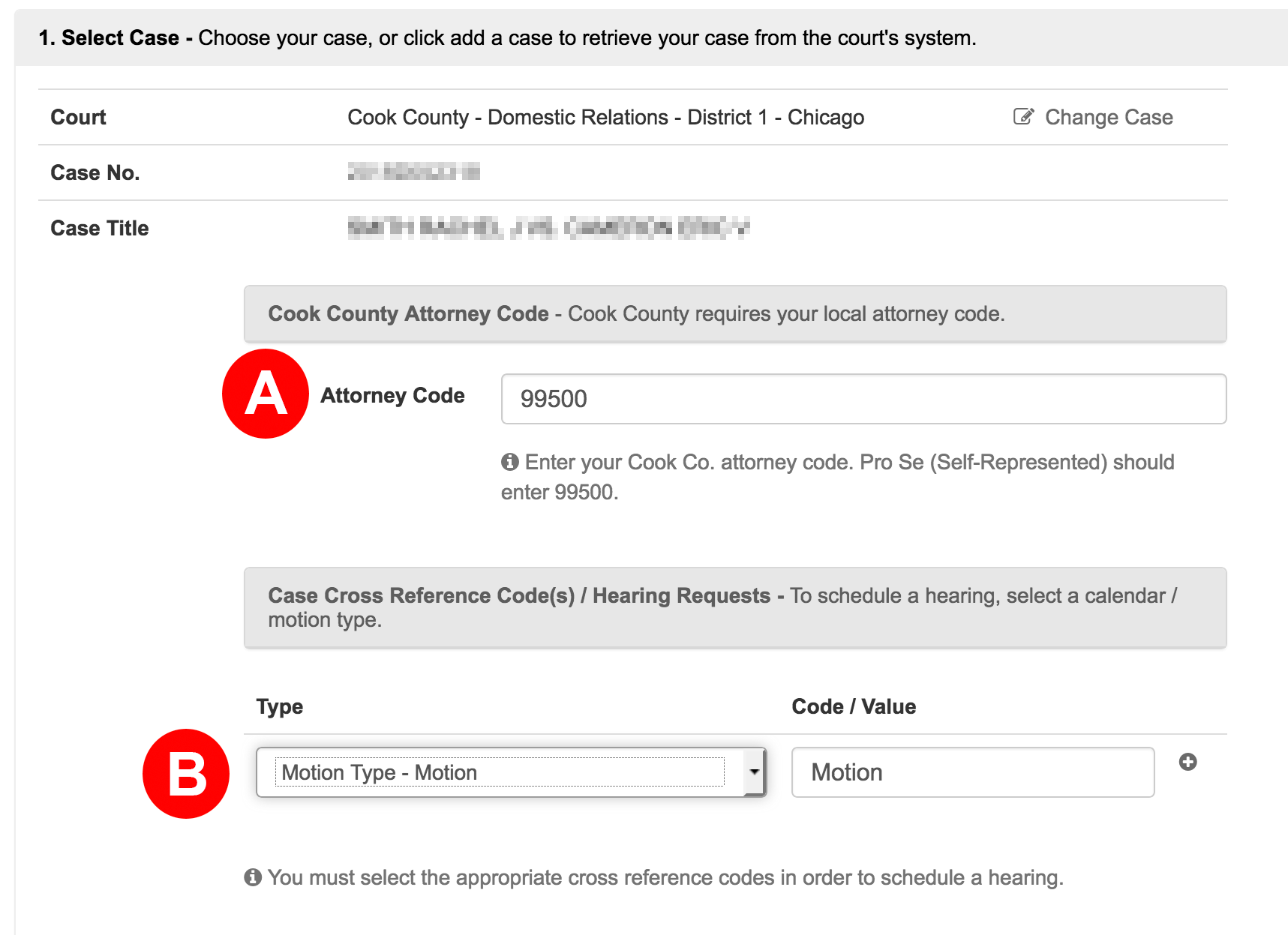 C) It's possible that the court will not return any additional cross reference codes to select. If that happens, upon submission, the court may still have hearing dates for you to select.

Resubmit the Filing
Once you make these changes, you can scroll down to the bottom and click the Submit button to resubmit your filing. Then you can request a hearing date while the filing is pending again. If the Request a Hearing Date Modal doesn't automatically pop up, scroll down to the Request a Hearing Date section, and click the link there.
Note: Please be aware that when you submit your filing the court does a pre-authorization on your card for the filing fees. When you cancel the filing, the court will not settle that pre-authorization, and it will eventually fall off your card. However, when you "re-submit" your filing, the court does another pre-authorization.
Lead Attorney Error Message
Sometimes when you resubmit the filing, you will receive an error message that the case already has a Lead Attorney. This means that the court's system already shows a lead attorney attached to that party. In order to resubmit your filing, just click the attorney name in blue in section 5, set it back to no attorney selected, then re-submit your filing.