These instructions are for filing an Ex Parte application on a case in the Los Angeles Civil Courts. The user must e-file these applications no later than 10:00 a.m. the day before the ex parte hearing.
Quick Steps
Scroll down for more detailed instructions.
From the Dashboard, click File on an Existing Case
Select your Case, or Add a Case to retrieve your case from the court's system.
Select your Ex Parte and Proposed Order (if required) Document type(s), and then click the Click to Upload link to add your document(s).
Enter your Additional Info that the court requires for this filing type.
Select a Payment Method, and click Confirm Fee Calculation to see the estimated fees.
Select service contacts to add Additional e-Service to your filing.
Select the Filing Attorney if necessary, review all information for accuracy, and Submit Filing.
File on an Existing Case
From the Dashboard, click File on an Existing Case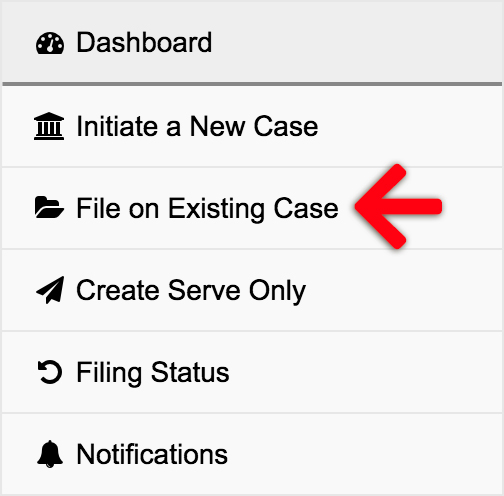 Read about Ex Parte Filing Guidelines for Los Angeles Civil Courts