Source: https://helpx.adobe.com
In any document that contains an index, including appendices and exhibits in support of writ petitions, the index should include an electronic bookmark from each descriptive document title to the first page of the corresponding document in the appendix or exhibits.
If appendices or exhibits are submitted in multi-part electronic files, each separate file should have a table or index stating the contents of that file.
About Bookmarks
A bookmark is a type of link with representative text in the Bookmarks panel in the navigation pane. Each bookmark goes to a different view or page in the document. Bookmarks are generated automatically during PDF creation from the table-of-contents entries of documents created by most desktop publishing programs. These bookmarks are often tagged and can be used to make edits in the PDF.
Initially, a bookmark displays the page that was in view when the bookmark was created, which is the bookmark's destination. In Acrobat, you can set bookmark destinations as you create each bookmark. However, it is sometimes easier to create a group of bookmarks, and then set the destinations later.
In Acrobat, you can use bookmarks to mark a place in the PDF to which you want to return, or to jump to a destination in the PDF, another document, or a web page. Bookmarks can also perform actions, such as executing a menu item or submitting a form.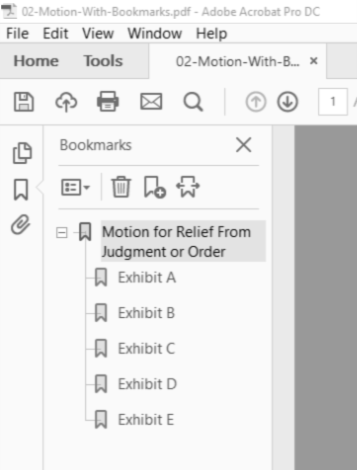 Note: An Acrobat user can add bookmarks to a document only if the security settings allow it.
Create a Bookmark
Click the Bookmarks button on the left to open the Bookmarks panel.
Open the page where you want the bookmark to link to, and adjust the view settings.
Use the Select tool to select the area of the page you want to bookmark:

To bookmark a single image, click in the image or drag a rectangle around the image.
To bookmark a portion of an image, drag a rectangle around the portion.
To bookmark text, drag to select it. The selected text becomes the label of the new bookmark. You can edit the label.

Select the bookmark under which you want to place the new bookmark. If you don't select a bookmark, the new bookmark is automatically added at the end of the list.
Choose Tools > Edit PDF > More > Add Bookmark.
In the Bookmarks panel, type or edit the name of the new bookmark.
Edit a Bookmark
In Reader, you can make bookmarks easier to read by changing their text appearance.
In Acrobat, you can change a bookmark's attributes at any time.
Rename a bookmark
Select the bookmark in the Bookmarks panel, choose Rename Bookmark in the options menu, and type the new bookmark name.
Delete a bookmark
In the Bookmarks panel, select a bookmark or range of bookmarks, and then press Delete.
Note: Deleting a bookmark deletes any bookmarks that are subordinate to it. Deleting a bookmark does not delete any document text.
For more information on types of Bookmark functions, visit https://helpx.adobe.com/acrobat/using/page-thumbnails-bookmarks-pdfs.html